You know what they say - if you need something done, ask a busy person to do it! So why not get involved in this fab Christmas card swap from the Creative Collective? (via Kellie @ 74 Lime Lane)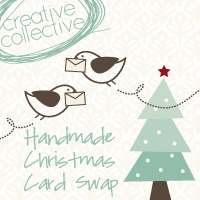 Click on the link or the picture above to go to the instructions for how to join in - you send out handmade cards to 5 partners by December 10th, and you need to register with swapbot, but otherwise it's easy peasy christmas treesy.
I love getting cards, so I'm already over-excited :)
- let's spread the festive cheer chaps!