Today I met my cousin (he's eccentric, a bit of a black sheep, shall we say) … also delightful company and down in Brighton on a little two week poetry writing holiday. He's in his mid 60s, lives in Mexico, and I love him to bits.
We went round Brighton Pavilion … I haven't been for about 10 years, so it was a delight for me … the building just oozes excess and sex. As Cuz said "Well, Minnie, [family nickname, long story] this just proves that nothing succeeds like excess"
I had my quilt top with me because I had to go buy batting (bamboo … gone up in price to £12 per metre … eeek!) so I really really wanted to take some guerilla pics in the Pavilion … you know, draped over a chair in the banqueting room …
[imagine photo here]
or draped over the King's bed … honestly you'd need a springboard - 6 mattresses!
[imagine photo here]
or draped over a cellist in the music room ….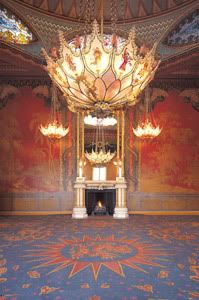 [imagine photo & sexy cellist here]
Yeah, well, I chickened out … too many 'no photo' signs and helpful knowledgeable guides - you don't want to upset them … ultimate deterrent.
The best I got was a quick shot on the Pavilion railings, but the quilt was so bloody huge and the railings so bloody small that it could be any railings anywhere … LOL … epic photo fail!
I like the spotlights though, even though they are facing the wrong way … *ahem
anyway, if you want to see what I saw watch this, it's fab
- the guide featured is wonderful, she really understands this building! :
Then we had tea in the Pavilion gardens … it's one of my favourite places … just tucked away right in the middle of everything.
Proper old fashioned park cafe. None of yer fancy double mocha choc half fat decaff water stuff here.
Oh no.
Finger burningly hot steel teapots and a nice rock cake. Bliss.
It's somewhere I come and sit and people watch, often.
I like seeing the little old ladies have the sandwiches they've sneaked in under the radar get swooped on by gulls …
heh heh heh … swoop or get swooped on. That's life, baby.
And we went for another wander through the gardens … and I noticed these fably geeky seed heads …
How cool?
perfect little 5-point stars … *sigh
Thus was spent a fruitful afternoon …
I like holidays.
p.s. you've still got about 2.5 hrs (in all honesty about 8) left for
my giveaway for 16 FQs of really cool Christmas fabric
… If you're not into giveaways, or you've already entered (gold star) you should go visit just to read the comments … they're wonderful … each one a little short story in the making … just sayin …