THIS GIVEAWAY IS NOW CLOSED - THANK YOU! - WINNER TBA SOOOON!
So far you may have seen my
wristwatch
&
mince pie
pincushion tutorials earlier this week, and I have some more in the pipeline using the hexie die and loads more with circles.
But that's for another day.
I really can't thank you all enough for being such loyal followers and commenters on this little blog. Since the end of the summer I haven't had the chance to post [or sew] half as much as I'd planned, and I'm sorry about that. I've had a tough few months and thanks to the lovely people at Accuquilt, at least I can go some way to paying one lucky winner back!
Well, you didn't think I was going to keep all that yummy
Accuquilt
Go! cutting to myself did you?
Would you like to win an
AccuQuilt GO! Baby
fabric cutter + 3 dies of your choice?
I based my choice of dies on things that I find a real faff to cut, but I'm really regretting not getting the big 1/2 square triangles die, and as soon as I get paid this month, I'll be investing in that one too.

Go and have a look on the

AccuQuilt GO! site

. They have some great new dies in stock now. Also they have live online advisers who are sooooo helpful.

Here's how to enter the giveaway - No real hoops here:

1. Go over to the

AccuQuilt GO! Shop

and choose your 3 favourite dies for the GO! Baby.

The links take you to dies that are compatible with the Baby. Then come back and leave me a comment telling me which ones you would like if you won.

Please Note:

If you don't tell me which dies you want, then your entry won't count. Simple as.




2. For an extra entry, blog about my giveaway - feel free to use the pic on this post.

3. If you'd like a 3rd entry, tweet about the giveaway. Please include

@pingsandneedles

in your tweet. Then come back and leave me a comment with your twitter @name.

This giveaway is open internationally and will run until

midnight UK time Thursday 1st December

- leaving you plenty of time to receive your prize and rustle up a few Crimbo gifts … The winner will be announced here on this blog.

Even if you don't have a Go! Baby, you can still get this great set of 22 patterns free

… some of them are really not half bad you know … I clicked through one of the many many many times I entered giveaways (unsuccessfully LOL) on other blogs and I have actually used a couple of the patterns. You get em when you sign up to their newsletter. Not such a hardship really.

Give it a go!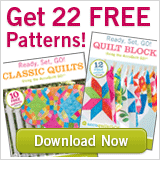 (I think if you click using this link I may get bonus brownie points or something … I'm not sure … Either that or they just work out how many clickthroughs I generate … just sayin …)
Good Luck! xx
THIS GIVEAWAY IS NOW CLOSED - THANK YOU! - WINNER TBA SOOOON!